Lady Gaga attends the 59th Annual Grammy Awards on Feb. 12, 2017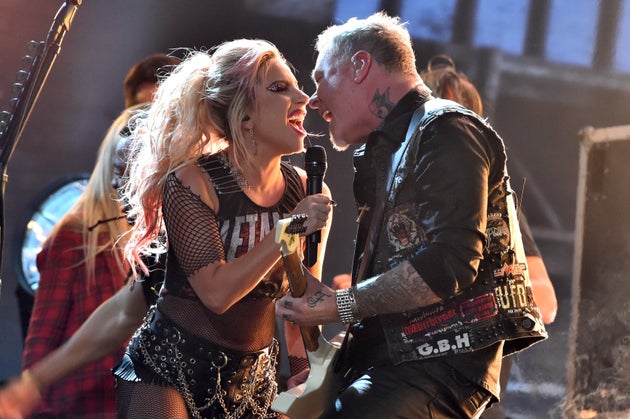 Gaga made an impressive entrance for the red carpet. From her all black edgy outfit to her killer sultry eye, Lady Gaga made her presence known.
Lady Gaga's go-to makeup artist, Sarah Tanno, created an edgy "flame eye" for the night's look.
Tanno had applied Marc Jacobs Beauty Highliner Matte Gel Eye Crayon Eyeliner in (Fine)Wine 47 ($25) and smoked it out to create a sultry eye. Tanno also crafted a flame-shaped cat eye on top of this, and completed the look by adding crystals (just like she did for Gaga at the Super Bowl – See below). The result of this look was a showstopping, sparkling style that held up even through the singer's moment of crowd surfing.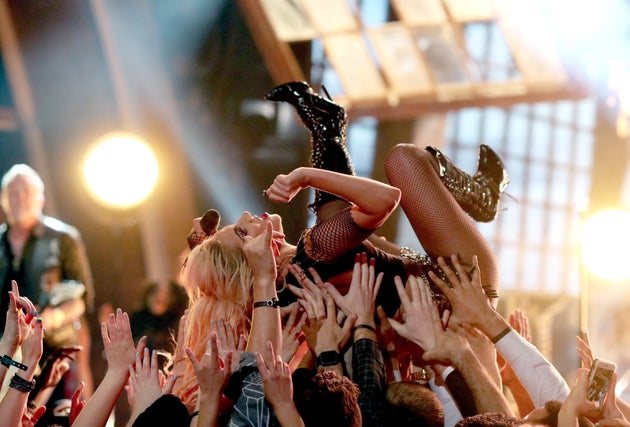 Products that were used on this look are the following;
Marc Jacob Twinkle Pop in Leila ($28)
Marc Jacob Velvet Noir Mascara ($26)
Marc Jacob Remarcablke Foundationkin ($55)
Marc Jacob Remendy Concealer Pen ($39)
Marc Jacob O!Mega Bronzer in Tantric ($49)
Marc Jacob Blush Lush & a Libido ($42)
Marc Jacob Matte Highliner Gel Crayon in Wine & Blacquer ($25 each)
Marc Jacob Boy Gorgeous ($30)
Photo Credit: LESTER COHEN VIA GETTY IMAGES, CHRISTOPHER POLK VIA GETTY IMAGES, REX/SHUTTERSHOCK
Makeup Artist: Sarah Nicole Tanno/ Instagram: @Sarahtannomakeup
Lady Gaga at the Superbowl!

Let's all agree that the true victory of the Super Bowl was Lady Gaga. Gaga's makeup artist outdid herself with allowing two looks to be executed flawlessly. Her eye makeup, which remained intact throughout the half time show without a crystal out of place. She started her performance with a rhinestone-bedazzled mask, which she whipped off after singing "Just Dance" to then reveal a very glammed periwinkle cat eye-festooned look. Makeup Artist, Sarah Tanno, stated the following, "I took inspiration from all of the iconic looks throughout Gaga's career and just elevated it into something new. I wanted her to be able to look at this 10 years from now and have it feel timeless."
Products that were used are the following:
Marc Jacobs Twinkle Pop Stick Eyeshadow in Au Revoir 406 ($28)
Marc Jacobs About Last Night Style Eye Con No 20 Eyeshadow Palette ($99)
Marc Jacobs Brow Wow Defining Longwear Eyebrow Pencil ($25)
Marc Jacobs Genius Gel Super Charged Oil Free Foundation ($48)
Marc Jacobs Le Marc Lip Creme Lipstick ($30)
Marc Jacobs Enamored Hi-Shine Gloss Lip Lacquer Lipgloss ($28)
Photo credit: KEVIN MAZUR/WIREIMAGE
No public Twitter messages.